Andrew Miller · Plumber/Reviewer
Last Updated:
Toilets are a quintessential home accessory, yet most of us overlook our run-of-the-mill bowls when it comes time to invest in home improvements. If you want to make the most of your bathroom experience, check out our top five favorite Toto toilets. We're confident that these porcelain thrones will give yours behind a much-needed reprieve.
What Is The Best Toto Toilet to Buy?
EDITOR'S CHOICE
1. Toto Eco Ultramax II
Best Toto Toilet
Uses just 1.6 gallons of water per flush
Has enlarged drainpipe and cleansing valve
Features a proprietary ion coating in pure white
A superior Toto design
CHECK PRICE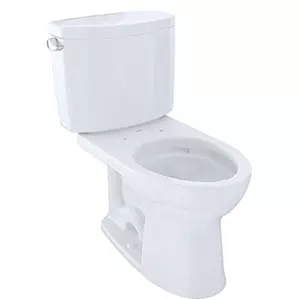 PEOPLE'S CHOICE
2. Toto Drake II
Best Two-Piece Toilet
Uses just 1.28 gallons of water per flush
17 inches from the floor
Double cyclone flushing mechanism
Meets WaterSense requirements
Two-piece skirted design by Toto
CHECK PRICE
3. Toto Eco Soiree
Best Upgrade Option Toilet
Uses just 1.28 gallons of water per flush
ADA-compliant (17.4 inches from the floor)
Chrome flushing mechanism
Meets WaterSense requirements
One-piece skirted design by Toto
CHECK PRICE
4. Toto Entrada
Best Beige Option Toilet
Uses just 1.28 gallons of water per flush
ADA-compliant
Chrome flushing mechanism
Meets WaterSense requirements
Made by Toto
CHECK PRICE
5. Toto Drake
Best Budget Option Toilet
360-degrees of water spray during flushes
Colonial white finish with ionic coating
Dual tornado flush function
Uses 1.6 gallons of water per flush
Backed by Toto's excellent customer service
CHECK PRICE
Read more Reviews
1. Toto Eco Ultramax II – Best Toto Toilet (Editor's Choice)
The environmentally friendly Toto Ultramax II is an aesthetically pleasing single-piece elongated toilet. It features a low-consumption flushing mechanism. Homeowners can cut their water bills in half with this simple home improvement. It uses just 1.6 gallons of water. Yet, the oversized drainpipe, which measures 2 1.8 inches in diameter, ensures that all waste is removed in one cleansing cycle.
Unlike customary bowls, the Toto Ultramax boasts an oversized 3-inch flush valve. The valve is an inch wider than traditional flush valves. As such, it removes waste with speed and precision.
The seat stands roughly 17 inches from the floor. The toilet consists of a single piece of high-quality porcelain. It has a glossy white finish with a proprietary ionic barrier.
The unique finish helps keep the bowl looking fresh and clean below and above the waterline. Keep in mind that this Japanese manufacturer does not approve of the use of some traditional toilet cleaners.
Overall, this toilet is an affordable and sleek floor-mounted toilet. You can have a taste of Japanese excellence without exceeding your home improvement budget. The waste basin may even meet the qualifications of one or more state or federal energy rebates. In the least, you should see the numbers on your water bill drop significantly.
Pros:
Uses a mere 1.6 gallons of water per cleaning cycle (Gets EPA's WaterSense Certification)
Proprietary SaniGloss finish with an ionic barrier that helps keep the basin clean
Enlarged 3-inch flush valve makes for rapid waste elimination
Enlarged 2 1/8-inch trap reduces unnecessary blockages
One-piece bowl has a sleek, modern appearance
ADA-compliant height of 17 inches
Cons:
You cannot use some abrasive cleaners on the somewhat delicate SaniGloss finish
2. Toto Drake II – Best Two-Piece Toilet (People's Choice)
TOTO Drake II is one of the best mid-range two-piece toilets. This porcelain throne features a super-efficient double cyclone flush. It's quiet and productive, something we yearn for when it comes to residential toilets.
You won't disturb your family when you get up in the middle of the night to relieve yourself. Thanks to the enlarged computer-designed trap, you can ditch the plunger. This toilet uses an EPA-approved 1.28 gallons of water to leave the bowl looking sparkly clean. It is also ADA-compliant.
You'll need to purchase your installation essentials separately. You will also need to secure an elongated seat, as Drake does not come with one.
One of Drake's hallmarks is its ionic layer, a stick-resident finish that keeps waste from adhering to the bowl. Your bathroom will look cleaner even longer with the Drake II. Are you ready to take a plunge into Toto territory?
Pros:
Uses 1.28 GPF (gallons per flush)
Two pieces, each ship in its own container
Double Cyclone Technology
Enlarged computer-designed 2 1.8-inch trap for smoother elimination
12 inches rough-in
3. Toto Eco Soiree – Best Upgrade Option Toilet
If you want a spa-like bathroom experience, you cannot go wrong with the Eco Soiree. This elongated one-piece toilet looks phenomenal in almost any bathroom.
It has a double cyclone cleansing system that eliminates all of the bowl's contents with a single rush of water. The water lever is coated in a high-gloss chrome finish and mounted on the left side of the tank.
The tank expels just 1.28 gallons of freshwater, making this receptacle a good match for most of the EPA's WaterSense rebates.
So, this is a decorative one-piece with skirted design and high profile tank. Toto's SoftClose seat is the latest in innovative smart seat technology with Comfortable Ergonomic Design, Molded Bumpers, and High Gloss Polypropylene. By the way, Toto has an online video you can watch showing their production procedures.
Pros:
Double Cyclone cleansing system
Super-sleek one-piece with skirted design and winged tank profile
Impressive chrome-coated lever
17 ¼ inches from the floor
Uses 1.28 gallons to eliminate waste from the bowl
Cons:
Does not always align with standard floor drains
4. Toto Entrada – Best Beige Option Toilet
We were blown away when we saw Entranda's low price tag. This reduced-consumption two-piece toilet has a comfort-minded elongated seat.
It has a lovely Sedona beige color that blends in nicely with most other bathroom elements. A single cleansing requires just over a gallon of H20 to eliminate liquid and solid waste.
It stands at 17 inches, the universal height, and ADA-compliant measurement. Unfortunately, the Toto Entrada does not come with a seat. You get to choose that add-on on your own!
One more benefit is the minimalist look of the small tank. It certainly makes the bathroom look bigger. Even more, you will be happy that this toilet has really little noise. The siphon works well but you will be also enjoyed the confidence-inspiring "visual effect" of the Cadet PRO. Toto provides good performance, durability, and reliability.
Pros:
Uses just 1.28 gallons of water per cleanse
Powerful flushing mechanics eliminates unsightly bowl waste in one motion
Compliant with ADA, WaterSense, CALGreen, and CEC requirements
Universal height
Side-mounted chrome flushing process
Sleek white coating with ionic elements
Cons:
The tank is small (still gets the job done excellently)
5. Toto Drake – Best Budget Option Toilet
We know that Toto has a reputation for producing world-class washroom elements, but this two-piece receptacle is a steal. For well under $300, you can have this pearly white masterpiece (Toto Drake) in your private or public restroom.
The bowl's most coveted characteristic is its proprietary Dynamax Tornado Flush. This element uses 360-degrees of water spray to eliminate waste from every corner of the bowl. There is no rim on the inner bowl. Therefore, there are fewer places for waste to get trapped.
Overall, this receptacle has a super-fast, efficient waste removal function. It uses 1.6 gallons of water per flush. As such, it doesn't get our environmentally friendly seal of approval. Still, it falls within the EPA's strict water use recommendations for residential bathrooms.
With that said, consumers can always install an aftermarket cleansing mechanism to help reduce their elimination-related water consumption. Toto offers excellent customer service.
Pros:
Proprietary Dynaxmax Tornado Flush function shoots water in every direction
Ionic barrier keeps waste and paper from sticking to any part of the bowl's surface
Space-saving two-piece design
Extended shape for increased comfort
Pair it with a bidet seat for improved hygiene and a spa-like experience
Buyer's Guide – How to Choose the Best Toto for You and Your Family
Aesthetics
Despite common assumptions, toilets come in a variety of shapes and sizes. There are one-piece, two-piece, and even wall-mounted options. With so many choices, how does a regular consumer choose the right one?
First off, let's discuss the differences between one- and two-piece lavatories. One-piece toilets tend to have a more modern appearance. They have all the same elements as two-piece toilets, but the pieces are joined together in seamless harmony.
You'll pay more for one-piece latrines. You might also have to put up with a few more challenges when it comes to moving and installing your one-piece. Then again, you will also spend less time cleaning in between those hard-to-reach crevices.
Wall-mounted toilets are also a great option for some homeowners. These toilets can be raised to accommodate adults with limited mobility. They are also an excellent space-saving option.
Installation is a bit complicated since these toilets are not compliant with regular floor drains. Fortunately for you, Toto offers all these options.
Flushing Mechanism
Toto waste receptacles are known for their premium cleansing cycles. Toto offers several proprietary flush systems, such as the double cyclone. All of Toto's receptacles comply with the EPA's strict water consumption requirements, meaning they use less than 1.6 gallons of water per rinse.
Toto also offers an incredibly wide variety of environmentally friendly human waste receptacles. These bowls may come with dynamic cleansing mechanisms. Many of their toilets also comply with the Environmental Protection Agency's WaterSense requirements, meaning they use 1.28 or fewer gallons of water per cleanse.
As consumers steer toward more environmentally and wallet-friendly home water closet alternatives, Totos continue to grow in increasing popularity.
Trap
Toto uses computer-designed drainpipes to ensure that their toilets eliminate bowl contents fast and efficiently. While typical traps are usually 2 inches wide, most of Toto's toilet drains are in-fact 3 inches wide.
That extra inch is a huge asset when you are trying to clear the bowl of excess human waste and paper.
Flush valves also have a huge impact on waste elimination efficiency, and Toto's happen to be some of the biggest on the market.
By releasing more water at one time, Toto manages to speed up flushing times without infringing on efficiency.
Installation
It's always vital that you check your measurements before installing a new toilet or plumbing feature. Occasionally, Totos do not align with pre-existing floor drains and water outlets. You may need to hire a plumber to ensure that your toilet is installed correctly. Fortunately, we also live in the age of online video tutorials. Where there is a will, there is a way!
Cost and Warranty
Toto does an excellent job of keeping their prices down while offering premium waste elimination products. That's why this Japanese manufacturer is getting consumers to rethink what they expect from their home toilets.
The company Toto
has been making toilets for well over 90 years.
That's longer than most of us have been on this earth. That's also a long time to be running a dedicated customer service department. If you need them, they're just one phone call away.
Other Considerations
We always tell our readers to take precise measurements before purchasing a new toilet. You want to make sure that your toilet is going to fit perfectly.
Unboxing and shipping large porcelain pieces isn't exactly a walk in the park. Don't even get us started on transporting these chunky appliances!
Keep in mind that not all Totos come with seats. If you're required to purchase an aftermarket seat, you'll need to make sure your selection is compatible with your bowl.
Seats may be circular or oval. While the toilet base has a major impact on your lavatory experience, a toilet seat plays a huge part in your comfort. Toto makes some amazing bidets. You can be sure these seats are compatible with the base, as they are made from the same manufacturer.
You may also want to ensure that your toilet is ADA-compliant. The ADA recommends that toilets be no more or less than 17 to 19 inches from the floor. You may need a raised receptacle or an extender if you have issues sitting and standing.
Final Thoughts
We hope you enjoyed this look at our favorite Japanese toilets. You probably spend a lot more time on your porcelain throne then you'd like to admit. With that said, there's no shame in upgrading your home lavatory.
Our favorite Toto happens to be the Eco Ultramax. It reduces home water consumption while making your home lavatory feel like a spa. Do you have a favorite toilet? Let us know in the comment section below. We also recommend reading our rating the best toilets.